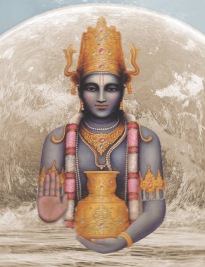 Ayurveda is a holistic system which has been practiced in India for more than fifty centuries. It is a comprehensive approach to health and the most natural way to heal, detoxify, relax and rejuvenate. We, The Arya Vaidya Pharmacy (Coimbatore) Limited, commonly known as AVP, is established in India in the year 1943. Our mission is to promote ayurveda and spread the goodness of this ancient science all over the world. AVP is engaged in manufacturing and marketing of genuine herbal Ayurveda products and also into research, treatment, education and related areas. We have therapy centres in India and abroad, offering comprehensive health services like Panchakarma and oil therapies as per Kerala Ayurveda.
Dhanwanthari Ayurvedic Centre - subsidiary of AVP in Latvia – is the first Ayurveda center in Baltics, which is lets you fully experience authentic Kerala Ayurveda. You can enjoy the authentic ayurvedic therapies in its purity and perfection here, under the supervision of well qualified therapists. For treatment we are using authenthic Ayurvedic products prescribed in scriptures already thousands of years ago. Along with Dhanwanthari Ayurvedic Centre in city center, we are offering also treatments in pacifying environment of Latvian seaside, far away from the buzz of the city.
In the modern way of life, ayurvedic systems especially Panchakarma are very effective for detoxification and rejuvenation of the body. The hardworking professionals of various fields who lead a hectic life style can enjoy the rejuvenating properties of ayurveda. It helps to maintain physical and mental health, enhances memory and concentration and make youngsters ready to take on the world again.
The healing powers of ayurvedic products make the life of aged people easy. Ayurveda offers profound solutions for Back/shoulder Pain, Arthritis, Diabetics & related issues, Gastric disorders, Hypertension and Stress, Sleeplessness, Migraine and Sinusitis, Skin disease etc. Being formulated from plants and herbs, Ayurvedic cosmetics are fully safe and without reactions. Ayurveda offers complete solutions for problems related with skin and hair.
As a holistic approach to health, Ayurveda is designed to help people live long, healthy, and well-balanced lives. Ayurveda targets on maintaining balance in the body, mind, and consciousness through proper lifestyle as well as through herbal remedies.