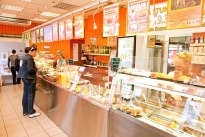 Imagine that it is possible to catch light and warm rhythms of India in the hustle and bustle of Riga and to try various unusual vegetarian dishes.
Welcome to our restaurant "Rāma"!
Happy hour
From 7.30 pm to 8 pm, 25% discount on main courses and salads.
From 8 pm to 8.30 pm, 50% discount on main courses and salads.
The restaurant's interior design is made in European style, however music, scents, classical Indian silk paintings and of course food choice all create the atmosphere of the land of temples. Did you know that restaurant "Rāma" is the only (!) completely vegetarian restaurant in Riga? Expert cooks offer both appetizers and main courses as well as snacks, which are only made of vegetables, soy and dairy.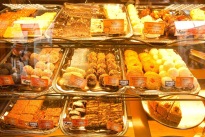 Our menu shows the best what our restaurant is like, namely:
Bengali subzi with paneer (steamed vegetables with spices and fresh cheese) or kitchari (peas, rice and vegetables), unique salads both simple and exotic, various snacks, pasties, vegetable cutlets, etc.
You are welcome to try:
vegetarian shashlik, pizza, stromboli and kutabi (Spanish and Georgian pasties with filling), unusual desserts, both European and Eastern sweets, which will be delightful addition to the meal.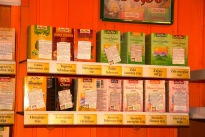 The restaurant also offers the following:
a wide tea selection (special attention is given to "Yogi Tea" teas – medicinal, prophylactic, enlivening and calming), freshly squeezed juices, the traditional Indian yoghurt drink "lassi", which is the best thirst-quenching drink and perfectly well freshens up in the summer heat.
Well are you ready to discover the unusual, nourishing and varied taste of vegetarian cuisine?
Welcome!